The Good Contractors List – Frisco, TX
You'll Love the Results—Guaranteed
Wouldn't you like to know before starting a home improvement project that you will be satisfied with the results? At Platinum Painting of Frisco, we guarantee that you'll be thrilled. In fact, we are so confident in the quality of our work that we have gone the extra mile to assure our customers' satisfaction—we are endorsed by Good Contractors List, an organization that supports only contractors who are dedicated to responsibility and accountability. Reviews from past clients are valuable, but Good Contractors List actually protects homeowners by partnering exclusively with trustworthy contracting companies.
When you work with Platinum Painting through Good Contractors List, you enjoy these two benefits.

John Stewart Hill
FOUNDER / CEO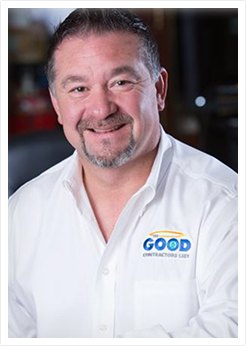 Free Mediation Services
Going through the Good Contractors website to begin a project with Platinum Painting, you receive an assigned Good Contractors team member, who will contact you throughout the whole process to ensure that you are being treated and served well. At the end of the project, if the quality isn't up to par, Good Contactors will send experienced industry professionals to your home to review our work at zero cost to you.
Keep in mind that long before Good Contractors List gets involved, our team will do everything possible to give you the personalized service and top-notch painting you deserve. From start to finish, we aim to make every home beautiful and every homeowner happy.
$10,000 Guarantee on Quality
Should the Good Contractors List team find that your home project wasn't performed correctly, they will spend up to $10,000 to get it done right. No matter what, you win! Flawless, high-quality results are guaranteed.
Interested in learning more about this guarantee? Reach out to our customer care team or read more on the Good Contractors List website.