Exterior Painting – Frisco, TX
Give Your Home A Beautiful Makeover
Painting a home's exterior surfaces can be a big and difficult job. Not only do homeowners have to grapple with delicate windows, scarily tall ladders, and more, but this kind of DIY project can take up countless weekends where you'd much rather be relaxing after a hard work week. At Platinum Painting of Frisco, let us make this exterior painting makeover process a breeze for you and your loved ones.
Before any actual painting work begins, our team will take a close look at the exterior of your home during a consultation. Once we've taken note of all of its needs, we'll draft a comprehensive and painstakingly personalized proposal of the project that includes all of the necessary cost information. This estimate doesn't cost you a penny, even if you end up choosing a different company. We go the extra mile to ensure that our services are the ideal marriage of both top-tier quality and affordable, stress-free pricing.
We can't wait to get started and help your house look better than ever! Contact us today to learn more or to schedule your consultation.
Why Choose Us:
Based in Frisco
Insured
Satisfaction Guarantee
Serving All of North Texas
What Can We Paint?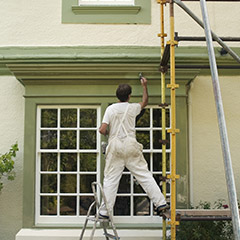 Are you concerned about whether or not Platinum Painting can handle all of your house's little quirks? You don't have to be. Our experienced team has handled just about everything over the years, and we know the ideal painting strategies for all types of materials, fixtures, architectural designs, and more. Our exterior-based services include the following:
Vinyl/Aluminum
Brick
Wood
Fascia/Eavestrough
Wood
Stucco
Patios
Decks
Railings
Fence Staining
Carpentry
And much more!
No Detail Is Too Minor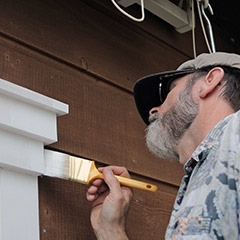 There are lots and lots of factors that need to be taken into account when choosing the right colors and painting materials for your unique house's exteriors. For instance, climate can make a big difference in the wear-and-tear factor of exterior paint, and any areas that are particularly prone to moisture will need a special touch. Do you have color trees or shrubbery in your yard? You'll also want to make sure that your chosen shades complement these elements for a uniform appearance. Even architectural flaws can be mitigated and hidden away with the right paint job that draws the eye elsewhere! At Platinum Painting, we take the time to think of everything so you don't have to.
The Steps of Exterior Painting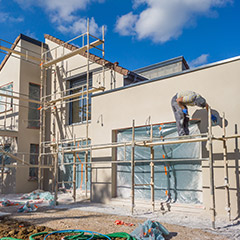 Initial Set Up – We'll begin by power washing all of the exterior surfaces to be painted, removing debris like sand, mildew, dirt, and more. Our team will also perform hand scraping to eliminate any loose, chipping paint. We will ask homeowners to remove any outside art fixtures, plants and more from the space, as well as make sure their sprinklers are turned off! To learn more about this preparation stage, please take a look at our Getting Started page.
Priming – We'll always use high-quality primer to get your house well-prepared for its impending paint job and ensure that the improvements stick around for a long time.
Painting – The finishing shade of paint will be your chosen shade and level of gloss. It will do a good job of protecting your home from the elements outside as well!
Clean-Up – Clients can rely on our team members to clean up after themselves every day (as well as at the end of the overall project), packing away materials, clearing trash, and getting rid of unsightly paint chips too. You won't be able to tell that we were even there.
Final Inspection – Once everything's finished, we'll give you a tour of your brand-new exterior and make sure you feel satisfied with the results. We want your expectations to be exceeded!
Dedicated Color Consultation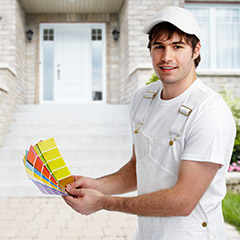 Choosing the perfect color(s) or stain(s) for your home's exterior is definitely a big decision that lasts for years and years. If you're not sure how to best accentuate the building's qualities, be sure to let our team at Platinum Painting know. We'd love to provide a helping hand in the form of dedicated consulting services, helping you reach a final decision that you and your family feel wholeheartedly excited about. Better yet, the Paint Color Visualizer from Sherwin-Williams is an online tool that can help you explore various color options from the comfort of your living room.
Exterior Painting FAQs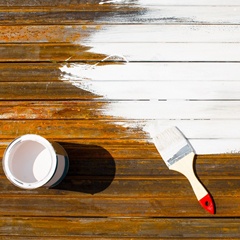 Is it ever too hot or cold to paint? What is the best season to paint outside?
Since opening our doors in 2008, we've learned how to deal with the crazy, unpredictable Texas weather, no matter the season. For example, in the hot summer months, we schedule our work earlier in the day so that we can avoid the 100+ degree temperatures in the afternoon. However, there are times when we need to reschedule our exterior painting in order to deliver the high-quality results that you deserve. When the temperature dips below 35 degrees or when it's raining are the two such times. We believe in doing our best for each project, and we will try to work around the Texas weather to give you an exterior that you're proud to show off.
Should I replace my gutters when I paint?
Yes! Your gutters play a critical role in preserving your home and extending its lifespan. When gutters function properly, rainwater is diverted away from the foundation and structure of the house. Otherwise, water can cause all sorts of issues top to bottom. If you replace your gutters while painting the exterior, we can prime and paint the fascia, which needs extra protection anyway! Our team at our sister company, Platinum Gutters, can happily help you pick the gutter system that can make the paint last even longer! By coordinating the painting and gutter schedules, you can have these improvement tasks done efficiently and effectively.
Can you paint metal fences or gates?
We sure can! You name it—we can paint it! With over 10,000 homes under our belts, we know how to approach each project with the best strategies to yield the best results every time. Our experienced team stays updated on advances in materials and techniques in the industry, so you can bet that we'll give you a paint job that lasts.
What prep work do I need to do before you start?
Before we begin priming and painting, we'll power wash all the painted surfaces, but we ask that you do a few things before our team arrives so that we can get right to work. Please clean up after your pets and secure them away from the project area. Also, turn off your sprinkler system while we work. Water can impact the paint job, and our team doesn't want to be doused with water! Finally, be sure to remove any wall hangings and plants. If you follow these tips and prepare before we start, we will be able to use our time more effectively, bringing you closer to the final product sooner!
Can you replace the wood before you paint?
Absolutely! The exterior wood surfaces can get a beating from the crazy Texas weather. Over time, the fascia, soffit, or HardiePlank lap siding can become damaged or rotten, allowing water to penetrate into your home and cause more trouble. Luckily, we at Platinum Painting can do more than just paint! With our developed carpentry skills, our team members can replace these parts and get your home back to full strength and protection. Then, we can add a coat of primer and paint to protect these vulnerable areas from the elements in the future.