Interior Painting – Frisco, TX
Love Your Living Space
Whether you're busy at work in your personal office or sitting down at the kitchen table for a fun family dinner, it's likely that you spend lots of time inside your house. That's why it's so important that your interior painting actually reflects your desired mood, personality, and preferences. Are you ready to make a dynamic change with some new colors for the walls? Is the paint on your ceilings or mantels starting to chip and look worn-down? At Platinum Painting of Frisco, we can't wait to learn all about your personal goals and help you pursue them with our experience, top-brand products, and exceptional attention to detail. To get a free quote, contact our Frisco, TX location today.
Why Choose Us:
Based in Frisco
Insured
Satisfaction Guarantee
Serving All of North Texas
What Can We Paint?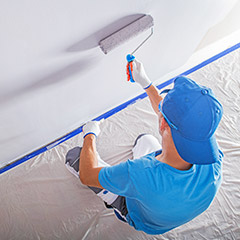 At Platinum Painting, our team has plenty of experience with all sorts of living spaces, from small condos and single bedrooms to three-floor buildings. If it can be painted, we're ready to get to work! Our interior services include the following:
Walls (any height is fine)
Ceilings (any height is fine)
Mantels
Doors & Windows
French Doors & Windows
Baseboards
Crown Moldings
Bookshelves
Wood Shelves & Cabinets
Chair Rail Moldings
Wainscotting & Paneling
And much more!
Platinum Painting of Frisco has extensive experience with all types of homes, from single bedrooms and small condos to buildings that span over 10,000 sq. ft. If it can be painted, rest assured that we're on the job! Our interior services include the following:
The Steps of Interior Painting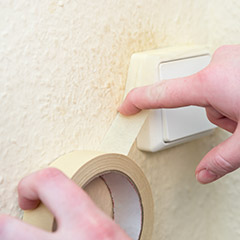 Initial Set Up – Our team members will personally move all the drapery and furniture from the client's space and then take a close look at the surfaces we'll be painting, providing sanding and caulking where needed along the ceiling crowns, doorjambs, and baseboards. We do ask that patients take care of a few minor tasks on their end before our team arrives, including storing any beloved paintings and knickknacks and making sure their pets are safe and secure in other rooms. For more information about this process, please view our Getting Started page.
Painting – After providing the necessary priming to any areas in need of repair, your chosen shade(s) of Sherwin-Williams paint will be evenly applied to the interior surfaces, creating a beautifully uniform result.
Cleaning – Once all the painting's done, we'll get started on the clean-up process. This includes sweeping away any debris, vacuuming carpets, throwing away trash, and moving all of your furniture and décor back into place. You won't even have to lift a finger.
Final Inspection – Finally, we'll walk with you (the client) through all of the painted spaces in order to get your first impressions and hear any feedback. Is something concerning you? Does a tweak need to be performed in a certain area? Don't hesitate to let us know so that we can leave you smiling.
Dedicated Color Consultation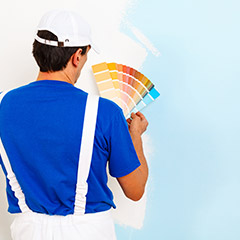 When starting to plan out an interior painting job, some homeowners feel overwhelmed by all of the color options available to them. Which shades can create the overall "feel" you have in mind? What colors will fit your existing décor and design touches best? Should you stick to one color, contrasting shades, or something even more dynamic? At Platinum Painting, we'd love to schedule some time for you with our dedicated color consultant. They can come to your house in-person and help you plan out your project, offering plenty of good ideas along the way. Additionally, feel free to check out the Paint Color Visualizer from Sherwin-Williams! This online tour allows you to play around with lots of different colors and see the available options.
Interior Painting FAQs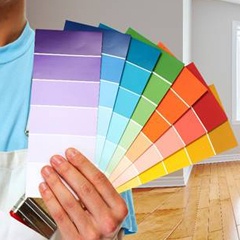 Choosing a service company for any home improvement can be a big decision. After all, you invite strangers into your home to work around your possessions, so you need to be able to place your trust in them. We completely understand how this feels because we're homeowners too! At Platinum Painting, we are dedicated to keeping our customers happy with our work from the very beginning with your interactions with our team to our honest, accurate estimates to the quality of the end results. We reward your trust in us with excellent customer service and stunning painting results that you'll love. Here are some questions to consider when selecting a painting company.
What do you do to protect my belongings?
We know that your possessions have value, whether monetary or sentimental. As a result, we treat your belongings with respect and the utmost care. Before we open the first paint can, we remove all furniture and drapery from the area where we'll be working. We leave you to take care of fragile and meaningful items so that you don't have to worry about potential damage. When we're finished working, we clean up after ourselves by sweeping, vacuuming, and picking up any trash in the area before repositioning the room just as we found it. Basically, we want the new paint to be the only indication that we were ever there.
How long does the process take?
We understand that you're busy. Time is precious, and after over 10 years of experience, we've learned how to work efficiently without cutting any corners. When you call our team, we are usually able to schedule a visit from our estimator within four days. After you get your estimate, we can plan the work for as early as two weeks later so that we can prepare our supplies and avoid wasting valuable time during the project. The duration of the project itself greatly depends on the size and number of rooms we're working on. However, our team knows how to get the job done quickly and effectively, giving you flawless results in a timely manner.
Can you paint really high ceilings?
Yes, we can! Platinum Painting can handle any residential painting project no matter how big or small. We've served over 10,000 homes in North Texas, ranging from small condos to huge mansions, so there isn't any painting job we can't tackle. But, even for larger spaces, we pay attention to every detail to make sure that you're completely satisfied with our work. Our experienced estimators are excellent at providing accurate estimates that take into account any factors that make a job more challenging. That way, you know what to expect and aren't surprised down the road.
Do you help me pick the colors?
As you begin planning your home painting project, you likely feel excited—until you're faced with the seemingly limitless color choices. Then it can quickly become overwhelming and stressful. We want you to feel completely confident in your choice of paint colors, so we provide a color consultation with one of our team members. They can offer useful advice and help you narrow down your options to the perfect ones for your home. In addition, because we get our paint from Sherwin-Williams, you can use their Paint Color Visualizer to envision what the final product will look like.