House Painting – Frisco, TX
Transform Your Home For The Better
What if your home could look fresher, cleaner, and wonderfully suited to your ideal aesthetic? At Platinum Painting of Frisco, we enjoy making this goal a reality for our valued clients. We offer a wide range of house painting services, from single-room interior projects to all-over transformations for exteriors. Our team will always be taking the time to ensure a reliably high tier of quality and personalization, down to the smallest details. If you're ready to learn more or receive a complimentary estimate, contact our Frisco, TX location today.
Why Choose Us:
Based in Frisco
Insured
Satisfaction Guarantee
Serving All of North Texas
Why Should You Paint Your Home?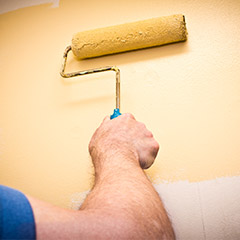 Giving your home's interior and exterior appearance a fresh coat of paint can do much more than simply change its color. There are tangible and valuable benefits associated with professional painting, including the following:
Inexpensive Remodeling – Are you ready for a dramatic change but don't quite have a big enough pocketbook to accommodate remodeling like new fixtures and knocking down walls? Painting is an excellent way to spruce your space while maintaining a reasonable budget.
Lasting Protection – If your home's outer walls have a fresh coat of high-grade paint, it can actually protect the surfaces against the forces of nature, such as snow and moisture. Meanwhile, interior paint jobs will help those walls resist wear and tear to a more successful degree over time.
Improved Curb Appeal & Resale Value – Countless studies have shown that interior and exterior painting can actually make your property more attractive to prospective buyers and even raise the overall price point.
Dirt & Dust Are Minimized – By painting interior walls (particularly plaster ones), homeowners can actually reduce the amount of collected dust and dirt.
The Benefits of Professional Painters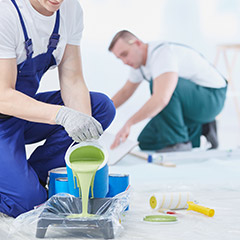 So you want to refresh your living space with some new paint – isn't it easier to just handle the job yourself? While DIY projects may work out okay for very minor updates, hiring a professional company like Platinum Painting of Frisco can go a long towards ensuring that your desired vision is brought successfully into reality. Here are just some of the benefits you can look forward to when giving us a call:
We are trained in the best practices and painting techniques in the field, allowing for improvements that are fast, efficient, and never lacking in quality.
We've got all the necessary protective gear, safety equipment, top-tier paint brands, and more to carry out each client's personal vision.
We don't just paint – our team members will also take care of any unsightly stains, cracks, scuffs, and holes along the way!
Best of all, there's absolutely NO clean-up stress for your family to worry about. We handle everything, which means that your only job is to enjoy your beautifully updated home.
In-Depth Painting Services From One Trustworthy Company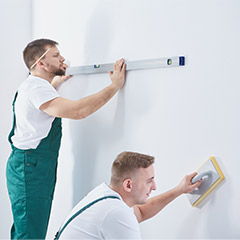 At Platinum Painting, we've so glad to have found our niche in residential homes, offering dedicated services to patients from all over Frisco and the greater Dallas-Forth Worth area. Better yet, we offer both exterior and interior painting services, which means that you can rely on just one company for even the most extensive needs – no draining DIY projects or sloppy hired hands required!
Our commitment to our clients also extends to the supplies we use as well. You'll only find high-quality Sherwin-Williams paints and primers in our company, as well as plenty of outstanding rollers, brushers, and other professional tools. We can't wait to help you start exploring the home makeover of your wildest dreams – contact us now to get started!
Frequently Asked Questions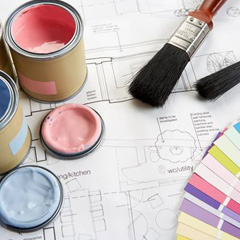 When searching for home improvement service companies, you want to make sure you pick the right one with an experienced team, a proven track record, and the ability to give you the results you want. We completely understand! At Platinum Painting, we are homeowners too and know that choosing a residential service company can be a hard choice. That's why we want to provide as much information about ourselves as possible to make the decision in your painting projects easier for you. So here are the answers to some common questions we've received from clients in the past.
How many houses have you painted?
In total, we have painted more than 10,000 houses in North Texas. Since we began Platinum Painting in 2008, we've worked on huge mansions, tiny condos, and everything in between. Because some of our team members have been with us since the beginning, you can rest assured that we have the expertise and experience to know how to handle any painting project, whether big or small. Although we've continued to grow throughout the years, one thing that will never change is our commitment to satisfying each customer from the first phone call to the final inspection.
What prep work do I need to do before you start?
As homeowners ourselves, we understand that you want a work crew at your house for as little time as possible. That's why we ask that you do a few things before we arrive to make the process run smoother and to allow us to get right to what we do best. For inside painting, remove any precious items or knickknacks from tables, mantles or shelves in the area where we will be working. Also, take paintings and pictures down from the walls, and empty the closets if we are painting them. To help us move freely in your home to do our work, please undo all child or pet gates. Keep your pets and children safely away from our work spaces. On the outside of the house, turn off your sprinklers to keep the paint looking nice and our crew dry. Remove any items from the walls, and clean up after your pets.
Is there an advantage to painting exterior and interior at the same time?
Definitely! Part of keeping our customers satisfied is saving them money when and where we can. As part of our process, we apply multiple coats of paint for the best results, but this requires time to let the paint dry in between. If we have simultaneous interior and exterior projects, instead of simply waiting, we can alternate painting the two, using our time more efficiently. As another example, during inclement weather, we can continue to make progress by focusing on indoor painting projects. Bundling interior and exterior painting allows you to save more money on the costs of labor than you would spend if you tackle the inside and outside at different times.
What type of paint do you use?
As a locally owned and operated company, we prize our customer's satisfaction above all else. As a result, we are flexible when it comes to the choice of paint or store. If you prefer a certain brand or store, we will gladly accommodate. However, if you don't have any particular tastes, we source our paint from Sherwin Williams, with whom we've established a relationship over the years. Out of the brands they carry, we typically choose Cashmere Interior Acrylic Latex and SuperPaint Exterior Acrylic paints for the best results at a reasonable price.