July 8, 2022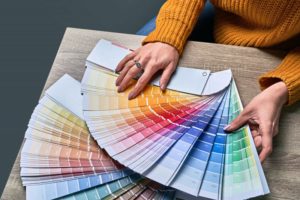 When you hire the right professional painters, they take care of project for you. All you have to do is pick the color, and they do the rest. But what if you're not completely sure about the color you want?
Did you know that you can work with a color consultant to help you make your final decision? Even if it seems silly to bring in a professional just to choose a color, it actually makes a lot of sense. They can help you do lots of things that are worthwhile in a painting project—keep reading to find out what those things are.
Know Current Trends
Unfortunately, staying up to date on the latest design trends requires more than just looking through one or two Better Homes and Gardens magazines. It's a full-time job; it's what a color consultant does! As a result, they can recommend certain colors or combinations that are in favor with the industry's top designers. In other words, you could get insider knowledge to turn your home into a trending space.
Save Time
Everyone is busy these days, and you may not have time to go back and forth on your color decision. As an objective third party, your color consultant can help you identify the perfect color sooner than you would on your own. Also, by guiding you, the color consultant can also reduce the stress you feel with making decisions on a home project.
Save Money
In addition to sparing you from wasting time, a color consultant can help you spend your painting budget wisely. As the saying goes, time is money! Plus, you don't want to regret your selection and then have to pay to repaint the house because of a bad choice. Working with a color consultant from the beginning is a great way to ensure your total satisfaction, even before the house is painted.
Create a Cohesive Design
Perhaps you would like an informed opinion about more than just the paint color. Designing a complete room can get overwhelming when you try to coordinate the flooring, wall color, furniture, and accent pieces. That's where a color consultant can make a huge difference. They can help you put together a design where all the moving parts work together instead of competing with each other. Having a knowledgeable professional at your side can help you keep your vision for the room and create a space where you want to be!
Ultimately, choosing the color is up to you. However, when you work with a color consultant, you can feel more confident and comfortable with your decision. As a result, you can sit back and relax, knowing that the house painters will give you results you'll love.
About Platinum Painting of Frisco
Platinum Painting of Frisco is proud to serve homeowners in the Frisco community. With more than 12,000 satisfied customers, we've shown that our professional team gest the job done right. If you are interested in working with a color consultant after getting a quote from us, we can connect with one our team trusts. Then, when you're ready to move forward with your project, you can contact Platinum Painting to schedule the project.
Comments Off

on 4 Ways a Color Consultant Can Help You Pick Your Paint
No Comments
No comments yet.
RSS feed for comments on this post.
Sorry, the comment form is closed at this time.