April 14, 2022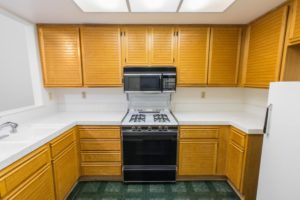 You love the vintage look. Maybe you go to antique stores or search online for the perfect pieces to put into your home. Or maybe you want to integrate a vintage style from the past in your improvement projects. A well-chosen design element can give the room a classic, timeless look that both reminds you of a by-gone era in the past and yet fits with the here and now.
Then again, there are design choices from before that are just outdated. They can make your house appear stuck in the past, old, or dingy. How do you know which home trends to leave behind? Here are just a few for walls and interior painting that are not likely to ever make a comeback!
Wood Paneling
Once upon a time, it was stylish to put wood on the entire wall everywhere, especially in a study, den, or basement, but times have changed. Wood paneling can make a room feel darker and even smaller than it is. At this point, it's better to remove the paneling and choose a vibrant paint color for the walls to make the room feel airy and inviting.
Popcorn Texture
For some reason, popcorn ceilings and walls were popular to add texture. However, the bumps are excellent places for dust and grime to accumulate over time, particularly around fans and light switches. Plus, if you accidentally brush up against the wall, the popcorn texture could scratch you! If you have this feature, have it professionally removed so that you can have a cleaner, sleeker look for the room.
Patterns from Floor to Ceiling
There's nothing inherently wrong with patterns, but in the 60s and 70s, they were spread everywhere. From the carpet to the couches to the curtains to the wallpaper, they extended to every part of the room, which can be overwhelming to say the least. Instead, choose just one or two design elements to highlight complementary patterns, and use the rest of the room to balance them out with solid colors.
Matching Carpet and Walls
Decades ago, it was common for the carpet and the walls to have the exact same shade or design. Like the pattern overload, there can be too much of a good thing. A more classic look can be achieved when colors are balanced and complementary—not exact matches.
Funky Colored Cabinets
One room you don't want to look dated is the kitchen, and having cabinets with funky colors is a dead giveaway. Over and over again, classic colors like white, gray, and sage green come back into favor for kitchen cabinets, while orange, yellow, and other colors have stayed solidly locked in the past.
Ultimately, you can use certain trends from the past to decorate and beautify your home now, but you need to be smart. By avoiding these outdated style choices, you can create a vintage, yet modern atmosphere everyone can enjoy.
About Platinum Painting of Frisco
Platinum Painting of Frisco is one of the leading residential painting service companies in North Texas. Our customer service is second to none, and we pride ourselves on being able to deliver results that thrill homeowners. If you have outdated features in your home, such as wallpaper, popcorn texture, and more, we can help you take care of it so your walls have a modern look. Just get in touch with our Customer Care team to schedule an estimate in your home.
Comments Off

on 5 Outdated Home Trends for Walls No One Wants to See Again
No Comments
No comments yet.
RSS feed for comments on this post.
Sorry, the comment form is closed at this time.