February 9, 2022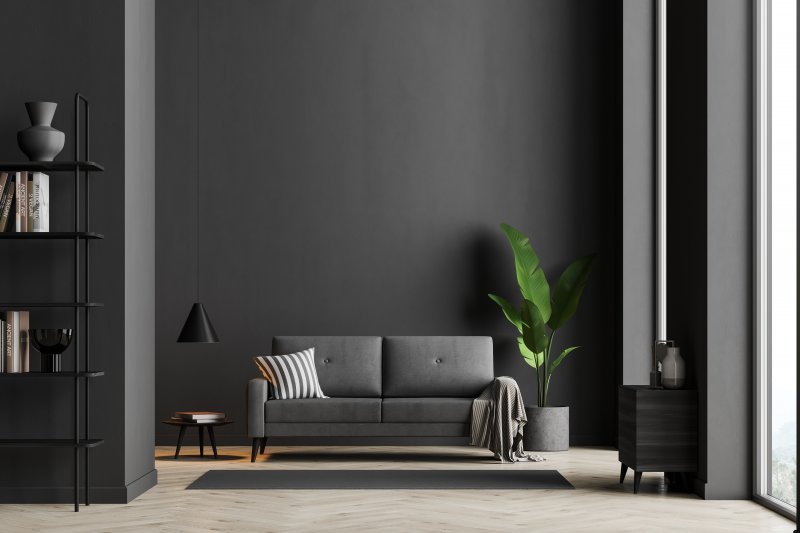 One of the hottest interior design trends is something you may not expect – painting your walls black. The dark color is an excellent way to update your home and create an elegant aesthetic. Although black paint is a bold statement, it's also considered a classic color that complements many different types of furniture and décor. Are you thinking about following this interior painting trend? Make sure you review the following tips before you pick up a paintbrush!
Choose Your Surfaces Carefully
First things first, you'll need to decide which surfaces you want to paint black. You can choose your walls, trim, doors – pretty much anything your heart desires! Although black paint can look sophisticated in many different types of rooms, it can make the space look dark and uninviting If you don't paint the right surfaces.
If you're not sure what to paint, here are some ideas to consider:
An accent wall. Before painting an entire room black, you should consider painting an accent first like a wall or even the ceiling. Pairing the dark color with lighter shades can make the room feel more spacious.
The tallest wall in the room. It'll create a focal point and make the room feel larger and brighter, especially when the walls are painted lighter around the windows.
Your hallway or powder room. Black is a gorgeous color choice for these surfaces. Make sure you paint the baseboards and trim a white or cream color to create some much-needed contrast!
Select the Right Black Paint & Sheen
Once you've decided on a surface to paint, it's time to select the right black paint and sheen to complement the room you're painting. Cool black paints that contain blue or violet undertones pair well with soft blues and bold, bright hues. Meanwhile, warm black paints that contain brown or true black undertones are great for accent walls, trim, or even cabinetry.
Pay Attention to Lighting
Since black paints absorb light, you want to make sure you choose a well-lit space. That can be from natural light or proper light fixtures, whichever you prefer. If you don't have enough light in the room, the black paint can make the space feel constricting and boxy rather than cozy.
Balance the Color with Light Décor
Make sure you choose décor, furniture, and accents that both blend and contrast with black walls to make your space look more cohesive and inviting. By choosing decorative elements like bright throw pillows, a bold sofa, a cream headboard, and white picture frames, you can help the room feel lighter, airier, and cozier.
If you want to upgrade the interior of your home with black paint, make sure you call in the pros to help you out. They're more than capable of helping you achieve the flawless and stylish look you dream of!
About Platinum Painting of Frisco
At Platinum Painting of Frisco, we want to make your home fit your ideal aesthetic. Our team will go above and beyond to deliver high-quality, stunning results. We'll ensure everything is exactly how you want it, down to the finest details. For a complimentary estimate, visit our website or call (972) 372-0404.
Comments Off

on 4 Tips to Keep in Mind When Using Black Paint
No Comments
No comments yet.
RSS feed for comments on this post.
Sorry, the comment form is closed at this time.