September 17, 2021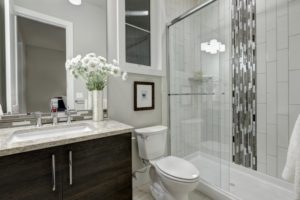 In design magazines, you'll see plenty of kitchens, living rooms, and bedrooms, but one of the most important rooms in your house is the bathroom. Although you may want to get in and out as quickly as possible, this room can't be neglected! The color scheme you choose for the bathroom can impact your experience in this room. You need to think about what kind of atmosphere you want to create here through the paint colors for the bathroom.
Creating a Clean, Relaxing Setting
Although some unsanitary things happen in this room, the bathroom serves many other functions too, like showering or bathing, brushing your teeth, and putting on makeup. It is also a common room where people go at the end of the day right before they go to bed. Needless to say, you can spend a lot of time here! As a result, the bathroom must look and be clean all the time and should be a relaxing place to be. And believe it or not, the color on the walls can help you and your guests feel more at ease in this room.
Colors to Consider for the Bathroom
Although trendy colors may be fun for a season, they may fall out of favor and date your bathroom. Instead, think about painting your bathroom one of these classic, timeless colors.
Light Blue
A light shade of blue will never go out of style in the bathroom. Peaceful shades of robin's egg blue or sky blue are comforting and have proven to be popular year after year.
Dark Blue
For a more dramatic color that still has a classic feel, you should consider darker shades of blue. They offer sophistication to the space while still providing a relaxing atmosphere similar to their light blue relatives.
Aquamarine
Nothing is more calming than the sound of the ebb and flow of the ocean. Aquamarine and other nautical colors can remind you of the ocean, potentially creating a peaceful environment in your bathroom. In general, a paler shade of aquamarine is recommended because in deeper tones this color can be overpowering.
Light Gray and Off-White
It's hard to feel comfortable and safe when you don't feel clean. Although white walls give the ultimate impression of cleanliness, an off-white or light gray color provides the same impression with a gentler tone. Plus, they add a little bit more personality and interest to the room.
Earthy Brown
Generally, dark colors can make small rooms feel even smaller and more cramped. However, in more spacious bathrooms, a burnt, earthy brown may be a alternative, especially with plants and bright fixtures and accents.
Ultimately, you need to choose your colors carefully. After all, this room plays an essential role in creating a comfortable home!
About Platinum Painting of Frisco
Platinum Painting is happy to help with various home painting projects, including the entire house or just a single room. At your free, in-person estimate, we can tell you about trending and classic colors that our customers like for the bathroom. For assistance with bathroom painting or other home improvement projects, contact Platinum Painting's customer care team and schedule a free quote today!
Comments Off

on 5 Classic Paint Colors for the Bathroom
No Comments
No comments yet.
RSS feed for comments on this post.
Sorry, the comment form is closed at this time.