June 17, 2021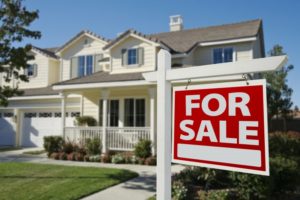 After being in your home for decades, you determine the time is right to sell it and downsize. You've done a decent job maintaining the house and keeping it in great condition, but your realtor suggests a few ways you can bring in more interested buyers, including painting the exterior. Will this really help you sell your house? It likely will! In this post, you'll learn why the exterior paint matters, how your home value can be affected, and why you should consider this update.
The Value of Curb Appeal
Everyone has been told not to judge a book by its cover, but when it comes to buying and selling houses, most people do. You may have only a few seconds to attract and keep the attention of a potential homebuyer as they search online for homes.
How much of a boost does your home's value get? Although there have been conflicting reports on the specific amount of return on investment for exterior paint, generally homes with well-kept landscaping and an appealing exterior sell for about 7 percent more than comparable homes with blemishes or poor front yards. There's no doubt that beautiful curb appeal gets more potential buyers through the front door, and you can improve your home's curb appeal through professional exterior paint.
Signs Saying New Exterior Paint Is Needed
You may be wondering whether your home's exterior really needs to be painted or not. In your view, wear and tear in spots may not be a big deal, but exterior paint is about more than just aesthetics. Homebuyers may see chipping, cracked, or peeling paint and question the house's durability. After all, the paint is the home's first defense against Mother Nature, and if it is failing, who knows what else could be wrong with the house? If you find these flaws, it may be time to paint the home's exterior.
Painting Dark, Outdated Surfaces
For most homeowners, deciding to paint certain surfaces is an easy choice. Siding or other surfaces are fairly simple to change your mind and paint a different color. Other surfaces like wood or brick can require a bit more courage, but the rewards are worth it! In many cases, you can transform the entire look of the house by painting over the dreary, old earthy tones of brick, making the house stand out in the best possible way.
In the end, painting your exterior can cause more people to stop and take a closer look at your house, potentially increasing its value. By taking this step, you can also set up the next homeowners to love the house as much as you have.
About Platinum Painting of Frisco
Platinum Painting has been serving North Texas homeowners since 2008, and many of our team members have been with us since the beginning. We stay on top of design trends and can let you know what's popular now or what trends are classic. Instead of providing a general estimate over the phone, our estimators go to your home to give you an accurate written quote. To schedule your own free estimate, contact us through our website!
Comments Off

on Want More Buyers? Consider Exterior Paint
No Comments
No comments yet.
RSS feed for comments on this post.
Sorry, the comment form is closed at this time.