April 15, 2021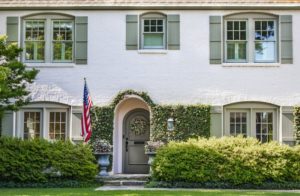 Painting the outside of your home can make it look brand new and drastically boost its curbside appeal. In a neighborhood of all brick homes, by painting the outside of it, you can truly make yours stand out from all the rest. What many homeowners fail to ask themselves before they take on this task is, "What all does this project entail?" Read on to learn how to paint your brick home the right way the first time around, so you don't have to waste extra time and money by making costly mistakes.
Preparing the Exterior Brick
Not taking the time to properly prepare the exterior of the home for painting is the #1 mistake that homeowners who try to take on this project by themselves often make. If you don't properly clean, repair, and protect surrounding items, you're likely to get short-lived results that don't look professional.
Before you do anything, you'll need to pressure wash your brick with a cleaning mixture so you don't trap dirt beneath the paint that makes it look permanently grimy. You'll then want to repair any cracks or gaps and reglaze your windows before covering them up so you don't accidentally get paint on them. Finally, place a plastic covering around any bushes, columns, or patios so you don't accidentally ruin them with splattered paint.
Gathering the Right Materials
Brick isn't the same texture or material as any other part of your home that you'd paint, which is why special materials are necessary. For an even, drip-free coating, you'll need to get a sprayer. This will also make the job significantly simpler by making it easier to paint the crevices and joints of the brick. Be sure that you have a solid spray technique and spray from all angles so you don't miss any nooks and crannies.
Since you'll be painting the outside of your home, you'll need to purchase a certain type of paint. Mineral-based or latex-based paint is specifically made for masonry and can withstand the routine weathering, heat, and cold that it will be exposed to. It's also important to look at the weather before you paint to make sure that it won't be super humid or rain.
Regular Upkeep
Once you finish painting your home, you'll need to upkeep it to make sure the results continue to look great. It's recommended to repaint exterior brick every three to five years so it doesn't appear dirty and damaged. You'll also need to regularly pressure wash the brick as well.
Even though painting the exterior of your brick home can be a big project to take on, with the right professionals by your side and proper maintenance, you'll be able to completely transform your house and enjoy beautiful results for years to come.
About Platinum Painting of Frisco
Our team at Platinum Painting of Frisco only paints residential buildings, so they're well-versed in the process of painting exterior brick. They're a great resource for homeowners to consult with and offer a satisfaction guarantee, so you can rest-assured that the results will meet your standards. The team also comes bonded and insured. For questions or to schedule a free in-home estimate, visit our website or call 972-372-0404.
Comments Off

on Painting Exterior Brick: How Do You Do it the Right Way?
No Comments
No comments yet.
RSS feed for comments on this post.
Sorry, the comment form is closed at this time.