March 26, 2021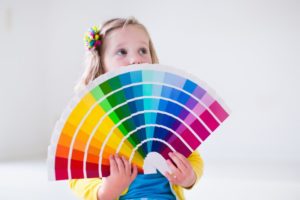 One morning, as you wake up your child to get ready for school, you look around their room and realize that it still has a baby or toddler vibe to it. They have outgrown the nursery, and it's time for an update. Although you could turn to design magazines and experts for their rules and advice, a kid's room is where styling rules can go out the window! Read on to learn how you can break the rules and have some fun when decorating and painting a kid's room.
Break Rule #1: Kids Should Be Seen, Not Heard.
Your child has an imagination and an opinion. Tap into that vivid creativity and get their input on the color and design of their room. It doesn't have to be exactly what they imagine, but you can make certain things happen and bring their creativity to life. After all, you may not want their room to have all neon yellow walls like they do, but you could use their idea on a smaller scale with an accent wall or in the décor. That way, your child feels that the room is truly theirs and allows them to express themselves comfortably.
Break Rule #2: Each Room Has One Color.
In most rooms that adults style, there's usually just one color on the walls. Forget that trend in a kid's room! Let your child choose a color combination (or you could let them choose one color while you choose the other) that speaks to them. Use one as an accent color, paint the trims a different color, or divide the room evenly between the two—whatever you agree on together.
Break Rule #3: Don't Worry about the Ceiling.
The ceiling is often neglected when it comes to designing a room, but in your kid's room, it can play an important role. With the right paint and décor, it can become the fifth wall and another place where your child can explore their imagination. For example, if your child likes astronomy or camping, you can paint the ceiling a dark gray, black, or blue and put up glow-in-the-dark night sky stickers.
Break Rule #4: Consider Current Interests Only
Although you definitely should think about adding some aspects of what they are interested in right now, you may run into the same problem just a few years down the road. Your kindergartner may like Paw Patrol now, but will they later on? Probably not. It's impossible to tell the future, but try to pick a theme or color scheme that can grow with them.
In the end, revamping your child's room is not just an opportunity to have fun redesigning a room in the house, but also a chance get to spend quality time together planning. When you both look back, you may remember what the room looked like, but you'll definitely remember the memories of working together.
About Platinum Painting of Frisco
In more than a decade of being in business, Platinum Painting has worked with projects as small as one bedroom to as large as painting an entire estate. Each customer's satisfaction matters more than everything else, which is why we offer a free color consultation with an industry expert. We can help you follow trends or break them, as you prefer. Would you like to schedule your free in-person estimate? Contact Platinum Painting today!
Comments Off

on 4 Grown-Up Rules You Can Break for Painting a Kid's Room
No Comments
No comments yet.
RSS feed for comments on this post.
Sorry, the comment form is closed at this time.