February 27, 2023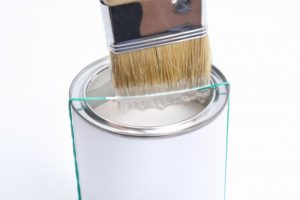 Would you like to make a fresh start in the new year? While dieting and exercise take months to see significant results, painting the exterior of your home is a much faster transformation. Many homeowners look out for what designers recommend, and in 2023, the most talked about shade is warm off-white. This color may initially appear uninspired, but if considered further, it is actually a great choice! Here are four good reasons to follow the 2023 exterior paint trend for your home.
Off-White Is Here to Stay
More exciting color trends may come up, but they can quickly fall out of favor. Meanwhile, others stick around. In other words, more dramatic shades can date your home, but warm off-white tones come back again and again. As a result, you can have peace of mind that your home won't look outdated in a couple of years. At a certain point, homeowners and designers alike will appreciate the color once again, meaning you won't regret your decision.
Off-White Is "Nicer" to Your Eyes Than Pure Whites
During summer months in particular, going outside from being in the car or inside the house, the bright sunshine can blind you temporarily. If you have true-white surfaces, this effect can be especially off putting because sunlight reflects off these surfaces in full force.
While warm, off-white tones are still relatively bright compared to a lot of other colors, they are a little easier on your eyes than truer whites. Basically, with warm off-whites, you can have a light, beautiful color with a less harsh impact on your eyes.
Off-White Works with More Natural Tones
Your home may be one of a kind, but most have some kind of natural element, like stone, wood, or earthy brick. In addition, many homes take advantage of landscaping, which means even more natural colors come into play. Pure white, although found in flowers, isn't as typical in nature as warm off-white. In fact, many colors from Mother Nature work better with off-white than with pure white or gray. If you choose this color, your home can both stand out while working seamlessly with surroundings.
Off-White Is Appropriate for More Styles
White, including off-white, tones are among the few groupings of colors that works for almost any design, age, and façade. Whether your home is a brand-new, modern build or an older, more traditional architecture, warm off-white can both provide a clean, sharp finish yet highlight your home's unique character.
Not every color trend recommended by designers or other homeowners is worth pursuing, but off-white for the exterior is definitely worth considering further. Begin the new year with a decision you won't regret and choose off-white for your home's exterior!
About Platinum Painting of Frisco
Although Platinum Painting originally began in Keller, the company has quickly spread throughout the DFW and now serves homeowners in the Frisco area, where the city is rapidly growing. Our local team members live and work in this community and take pride in making Frisco a more lovely place to be. If you would like to learn more about our painting services or schedule a free in-person estimate, we invite you to contact our Customer Care team!
Comments Off

on Warm Off-White: Consider 2023's Exterior Paint Trend
No Comments
No comments yet.
RSS feed for comments on this post.
Sorry, the comment form is closed at this time.