July 16, 2021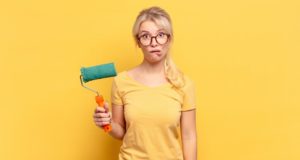 You thought you already made the hard decision. Out of the hundreds of color options, you found the one that perfectly matches the design you have in mind. But your work isn't done! You still have to decide the paint gloss. How do you know which of the five finishes is the right choice for your project? Before you can answer this question, there are four questions you should consider first. Read on to learn what those questions are and how they can guide you to the right finish.
How Much Light Do You Want in the Room?
Some rooms get plenty of natural light; others do not. Although adding light fixtures or lamps can brighten these darker rooms, the paint gloss can also help by reflecting light. Higher gloss paints like semi-gloss are shinier and therefore can more easily spread light throughout a room. This particularly comes in handy in small rooms that don't have a window, such as a bathroom or potentially a den.
Are There Imperfections on the Walls?
Your walls doesn't necessarily have to be perfectly smooth in texture, but in most cases you want to give the illusion that it is. A flat or eggshell finish disguises little bumps or other flaws and creates a smoother looking surface. Large flaws in the walls become more noticeable with the higher gloss paints. Before selecting the finish for your interior paints, take a close look at the walls' texture and decide whether you need to hide these imperfections with a less glossy finish.
What Purpose Will the Room Be Used for?
Understanding how a room will be used can guide you to the right finish for the paint gloss. Another way of phrasing this question: Will the walls likely get messy? Although the master bedroom walls most likely won't get terribly dirty, other walls might, especially if you have young children. For example, the kitchen walls could get messy from cooking or washing dishes. In that case, you may want to have a higher gloss because these paints are easier to clean. The bathroom or a kid's room are other rooms where a glossier paint may be the smarter choice in case of messes.
How Much Traffic Will the Room Have?
In addition to the purpose of the room, you need to consider how much the room will be used. Lower traffic areas, such as a guest bedroom, may be perfectly fine with an eggshell finish. On the other hand, rooms where you spend most of your time, such as the kitchen, living room, or bathroom, may look and clean better with a slightly glossier finish, even it's only satin.
With five options for gloss, you can easily become overwhelmed and confused. Addressing these questions can help you know which gloss will best suit the room. Your other options would be consulting with professional painters, who can help you determine the right finish.
About Platinum Painting of Frisco
Platinum Painting has been serving homeowners throughout the DFW area for more than a decade. For any project, we offer a free color consultation with one of our team members. During this in-person meeting, we can also discuss the finish of the paint. It's one more way we ensure your complete satisfaction with our work. Want to schedule your free in-home estimate? Contact Platinum Painting of Frisco through our website here.
Comments Off

on 4 Questions to Help You Decide on the Paint Gloss
No Comments
No comments yet.
RSS feed for comments on this post.
Sorry, the comment form is closed at this time.